This page is devoted to John Blair Hunter and his first wife Rebecca Jane Malott (many different spellings) and their children..... John was the oldest child of Samuel Hunter and Agnes Blair he was born March 4, 1821 in Crawford Co. PA and died on Feb. 21, 1900 in Wood Lake WI....he is buried in th Loraine Cemetery in Loraine Twp. WI....Rebecca Jane Malott was born in about 1827 and she died on Oct. 30, 1861 and I have affidavits I got from Helen when I wrote to her for information that show Rebecca was buried near the house that her and John lived in at the time in Diamond Bluff WI....together they had 6 children.....their names were---Agnes L, William Long, Margaret Elizabeth, John B, Adelaide, and Samuel Wesley..... I have some dates on all of them but I only family charts on William Long and Samuel Wesley and I will share some of that with you on this page... If anyone has Information on any of the other children PLEASE let me know I have hit road blocks on them all....
Rebecca died from a disease called consumption it is a long term lingering disease that causes progressive wasting of tissues, of lungs, like tuberculosis....from what we know she was very possibly french and her parents may have come from France we do not know who her parents are so if anyone can help, or if you know of someone who can help please let either Bev, who is Rebecca's great great granddaughter, or me know just email one of us...John Blair Hunter died from a heart disease he was sick for 3 months...also on the death certificate it lists old age as part of the reason for his death, he was 78 years old he was just under 1 month away from 79.... John was fair complected with blue eyes and light hair and he was 5' 7" tall....during his time in the war he was shot in the upper arm (left arm) and wound up loosing about 1 3/4 inches of his bone in that arm......I have papers on this war wound, I also have papers from people who knew both Rebecca and John in PA and in WI who talk of Rebeccas death and where she is buried..... This info came 1st from Helen & Ned Hunter, I got some also from Morgan & Pat.....Thank you to you all.....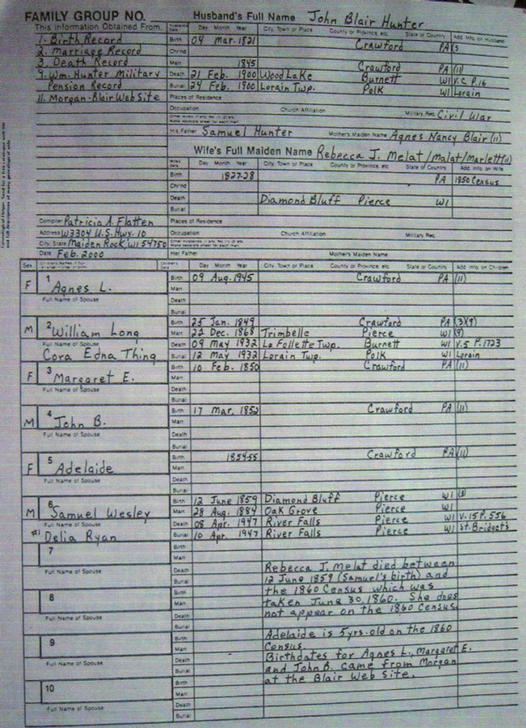 THEIR FAMILY CHART
Here (to the right) is the family chart of Rebecca and John.....it shows the dates and places of births deaths of them and their children and their spouses if available....the family charts I have on my web site I have gotten from Morgan and Pat I want to thank them for their help, it is greatly appreciated....I have gotten alot of my information from all different places and have shared my information with those that have shared with me....the family group charts have helped alot....it makes it easier to see the whole family this way.....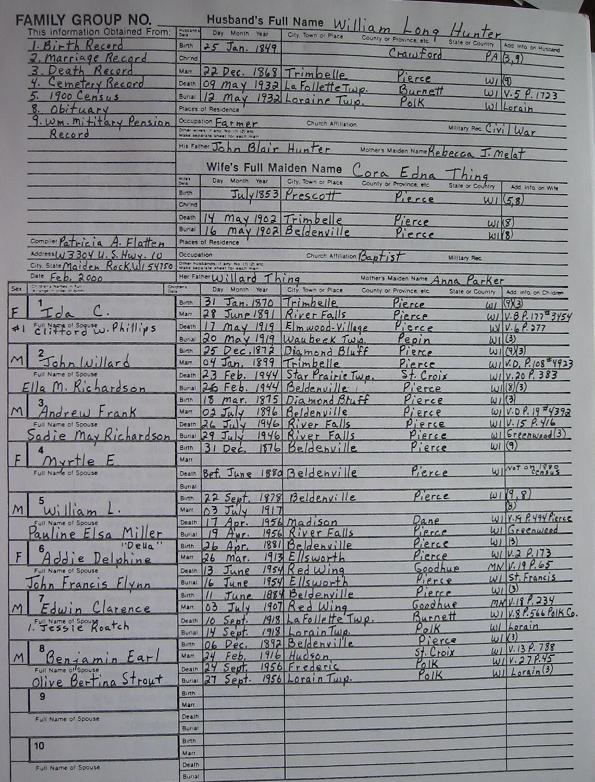 WILLIAM LONG & CORA EDNA'S FAMILY CHART (left)
This is William Long Hunter (to the right) and Cora Edna Thing/Hunter (Bev's Great Grandparents).... William Long is the second child of John and Rebecca....Cora Edna Thing is the daughter of Willard Thing and Anna Parker she was born in July of 1853 in Prescott WI and she died on May 14, 1902 in Trimbelle WI...according to family members she was a good mother and very well liked in the community where she lived... she was buried in Beldenville WI...... she died fairly young, only 49 years old..... her youngest child was only 10 years old when she died.... and William never remarried after she died and as far as I know all the kids stayed with him... he was born on Jan 25, 1849 and he died on May 9, 1932.......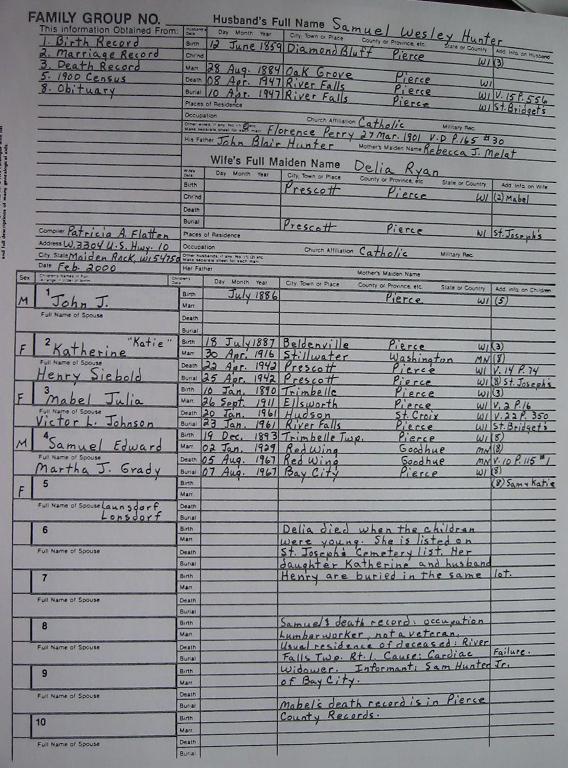 SAMUEL & DELIA'S FAMILY CHART (left)
This family chart (to the right) is of Samuel Wesley and his first wife Delia Ryan....Samuel is the youngest child of John Blair and Rebecca Jane...Delia died when the chidren were young.....she is buried in St Joseph's Cemetery in Prescott WI....she died about 1900 I have no dates of birth or death for her yet..... after their mothers death little Samuel, Mabel, and Katie all went to say in an orphanage asylum ages at the time were 7, 10, & 12, I found this info on a census for La Cross dated June 1900.....one thing that is confusing to me on the family chart is that it shows a 5th female child --- no name but looks like she may have married someone with the last name of launsdorf or landsdorf , not quite sure on the spellling.....maybe Delia had the baby girl and died right afterwards maybe the girl was adopted out to a family member since she isnt listed in the orphanage asylum census with the other children still doing some checking on this also.....also John J. the oldest child is listed on the census in Oak Grove as a servant his age is 14.....Samuel had a few occupations during his life, he was a lumberjack which is probably why he wasnt able to keep the children with him, he was a laborer on the 1880 census in Maiden Rock....Samuels cause of death was Cardiac Failure...